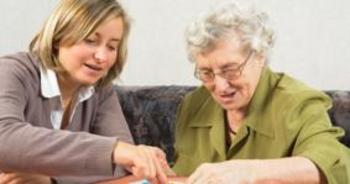 All Rights Reserved
General guidelines for activities
Not sure how to fill your visits to a loved one with Alzheimer's? Take the reins and lead her somewhere you'll both enjoy going. Staying mentally engaged is known to slow down the disease process and ease the frustration and boredom that can lead to worsened behavioral symptoms (like aggression, wandering, and rummaging).
Caveat: If an activity seems to stress or frustrate her, stop. Shared activities should feel like a pleasure, not a test.
Keep expectations realistic: Consider what she can do, rather than what she used to do.
Stick to short, simple plans. Avoid elaborate, multistep projects.
Keep your comments positive and encouraging.
Avoid treating her like a child (talking down to her, hovering, taking something out of her hands to complete).
Watch for cues -- such as increased distraction or agitation -- that indicate that she's confused, tired, or otherwise uncomfortable. This signals it's time to stop.
Make the most of the skills and interests she retains.
Take your time and be patient.
Ways to interact with someone with Alzheimer's
Cook together
The ideal recipe is one the patient has cooked for years but that you know, too (or that's written down) so that you can help if she gets flustered or stuck. Stews or casseroles are great because they involve various basic steps, are forgiving if something's left out or miscalculated, and freeze well for future meals.
Remove all clutter from your workspace before you begin.
Lay out in plain view all the tools and ingredients you'll need before you start.
Focus on one step at a time rather than using a divide-and-conquer approach.
Avoid the temptation to "test" her on what comes next in a recipe she's used before.
Stop when she's tired and, if you can, store the project to resume at the same place the next day.
Invite family to share the finished product -- she will enjoy both the sense of accomplishment and the company. Plus, a shared meal won't tire her out as easily as a longer family visit might do.
Play cards or other games
Games can appeal both to lifelong players who miss their former pastime as well as to those who never showed much interest before.
Suggest playing a game of cards or a board game that's familiar her, such as Po-Ke-No, dominoes, pinochle, or c ribbage. Games are easiest when they date back to childhood (like Old Maid or Go Fish) or have been played regularly for a long time (at, say, a card club).
If she really enjoys a more complicated game (such as bridge) but has lost some of her ability to remember rules or follow the action, play in teams so she has a partner to help her.
Bingo is an old standby many people enjoy for its social aspect, and it also exercises the memory. You can find games at churches, community centers, and assisted-living facilities. If she's a longtime player, she'll know sites and appreciate being able to continue attending. 
Celebrate the season
When the seasons change, think about activities that have to do with upcoming holidays or the new season in general.
Help her decorate her home seasonally. Though she may no longer be able to handle the hands-on work, she may enjoy deciding which items to use and where things should go. Just make sure you don't overdo it -- changing her home environment too much or adding too many distractions can be confusing.
Try doing an arts and crafts activity together to create a seasonal decoration, such as a centerpiece for a holiday meal.
Look for religious services or performances that tie into the season. Attend low-key performances, such as those on midweek afternoons, to make the outing less stressful. Avoid evening engagements if this is a time when her behaviors escalate.
Take a walk, if she's able, or go for a drive. She's likely to appreciate excursions that allow her to enjoy changing scenery or to see holiday decorations.
Practical activities for interacting with an Alzheimer's patient
Read together
Reading is an activity often abandoned because of poor eyesight or a lost ability to follow along. Yet it can be a good way to keep one's mind active because it brings up topics to think and talk about, and it can be a source of pleasure and relaxation for a lifelong reader. Take some simple steps to help a patient enjoy the activity:
Bring familiar periodicals when you visit and look them over together. She may have favorite sections (sports, weather, advice columns) that continue to give pleasure because she's so familiar with them. Use the topics as a springboard for conversation.
Read aloud. The advantage of reading aloud over books on tape is that the latter can be hard to follow unless a patient's Alzheimer's is still early. When you read aloud to her, you can follow her cues and stop to answer questions, discuss, or rest. Choose her favorite books or authors to reread; try a chapter a day. This is a good activity for an older grandchild to engage in during visits with her grandparent.
Furnish coffee-table books with large photographs or other artwork that's visually stimulating.
See if her favorite reading materials have large-print editions .
Do chores toge ther
You may not consider household activities stimulating or enjoyable, but they can be a great source of both pleasure and mental exercise to someone with Alzheimer's. Completing tasks, even simple or rote ones, provides a sense of achievement -- important because she may feel increasingly useless and out of control of her environment.
Activities that are often particularly engaging, especially if she has always done them, include sorting, folding, or putting away laundry; washing dishes or unloading a dishwasher; snapping beans or shucking corn; and raking leaves, watering flowers, or pulling weeds in the garden. Doing everything "for" a patient robs her of the opportunity to feel productive, and feeling useful is a basic human need. So don't feel guilty about using your time together on something as mundane as chores.