Brain-Stretching Activities for Someone With Alzheimer's
How to gently exercise an Alzheimer's patient's mind while spending time together.
95% helpful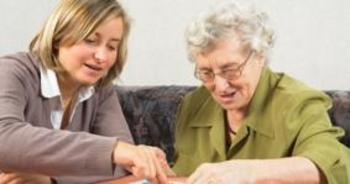 General guidelines for activities
Not sure how to fill your visits to a loved one with Alzheimer's? Take the reins and lead her somewhere you'll both enjoy going. Staying mentally engaged is known to slow down the disease process and ease the frustration and boredom that can lead to worsened behavioral symptoms (like aggression, wandering, and rummaging).
Caveat: If an activity seems to stress or frustrate her, stop. Shared activities should feel like a pleasure, not a test.
Keep expectations realistic: Consider what she can do, rather than what she used to do.
Stick to short, simple plans. Avoid elaborate, multistep projects.
Keep your comments positive and encouraging.
Avoid treating her like a child (talking down to her, hovering, taking something out of her hands to complete).
Watch for cues -- such as increased distraction or agitation -- that indicate that she's confused, tired, or otherwise uncomfortable. This signals it's time to stop.
Make the most of the skills and interests she retains.
Take your time and be patient.