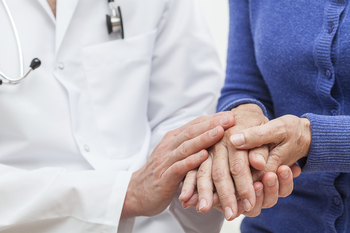 All Rights Reserved
Death is a fact of life for all of us, and an even more imminent consideration for our elderly loved ones. As a spouse, an adult daughter or son, or other loved one, we know this. But watching it happen, witnessing the daily, oftentimes painful decline, and even contemplating our own final days can be scary and heartbreaking. For these reasons, we tend to delay the conversation about our end-of-life wishes and concerns.
Eve Elliot knows this excruciating journey too well. Her husband, Jim DelGrosso, the love of her life of 40 years, suffered from amyotrophic lateral sclerosis (ALS), a neurodegenerative disease that damages the nerve cells in both the spinal cord and brain and progressively causes the individual to lose control of their bodily functions and mobility. Jim's first ALS symptom began in May 2015. After several misdiagnoses, doctors confirmed that Jim was suffering from ALS.
Both Jim and Eve began to envision an emotionally and physically painful future. "Jim painted pictures for a living. He also fished, made lures, baked bread…he fixed things. He used his hands for everything, so when he started not being able to use a paintbrush, a spoon, and as it became impossible for Jim to bear down on his hands to scoot out of the bed or a chair, we knew. That's when began to have as we called it, an 'exit plan," says Eve. "It wasn't difficult to have this conversation, not for us. We could talk about anything and we could laugh about anything. We started seriously thinking about a plan months before the end."
After Jim and Eve received his terminal diagnosis of ALS at the hospital, they went home and went to sleep. They were able to sleep because they had a plan. Jim would end his life on his terms. Eve was in agreement. At the time they didn't know how, they only knew that he would not spend months or years as a prisoner of his own failing body while Eve watched helpless.
What is medical aid in dying?
Some terminal illnesses are exhausting, slow and excruciatingly painful, that may go on for weeks, months, and sometimes years. In some ways, death may seem like a relief and end to this suffering. Some argue that we're more compassionate with our pets in choosing to end their lives than we are our loved ones. Others consider it a religious sin or moral breach to interfere in the dying process. Even family members don't always agree.
"I couldn't stand seeing how miserable Jim was. He was always so joyful about every single thing," Eve says. "He had been in perfect health all his life, the body and energy of a 40 year-old. He was interested in everything and everyone. Jim said, "I don't mind dying. I've caught enough fish. I've baked enough bread and painted enough pictures. I've been married for 40 years to a woman I adore. I don't mind dying. I just don't want to suffer."
Jim and Eve lived in New York, a state that currently has no legal options for the terminally ill to choose medical aid in dying. They considered various ways to end Jim's life but none proved easy. They decided not to share the possibility of medical aid in dying with family members but started to tell a few close friends. Someone suggested they check out Compassion & Choices, the advocacy group at the forefront of the medical aid in dying movement and one of the driving forces behind the changing attitudes and laws in the U.S. on the subject.
Compassion & Choices' stated mission is to protect and expand end-of-life options — and to ensure healthcare providers honor and enable patients' decisions about their care.
"We help people understand what their end-of-life options might be and what in their state and specific locality what their options are," says Wendy Haile, an end-of-life consultant for the organization. "We encourage families to talk to each other and not hold back about having the conversations about their wishes—even if a person is ill—or not."
Compassion & Choices offers end-of-life consultations either in person in certain states, online, or by phone to help people receive healthcare that is consistent with their values and priorities as they approach the end of their life. The organization offers assistance in completing advance directives, finding local services including hospice and palliative care, support groups and information on safe, effective and legal methods for medical aid in dying. Compassion and Choices helps in authorizing and implementing medical aid in dying to allow mentally capable adults in their final weeks or months of a terminal disease to choose when they will die, according to the organization.
"For us, there's no right choice. It's about what's right for each individual. Our main goal is to help people know what their options are and to be able to assist them to either carry out those wishes or to have individuals in their lives who can advocate and even carry out those wishes for them," Haile says.
How does medical aid in dying differ from hospice or palliative care?
Medical aid in dying, also known as physician-assisted aid in dying, allows doctors to prescribe lethal doses of drugs to terminally ill individuals who want to die sooner rather than later. Physician-assisted aid in dying has been addressed in Death with Dignity acts in numerous states and the End of Life Options Act in California, among others.
Hospice refers to end-of-life support and care for terminally ill patients. Palliative care is medical care (medications and other types of medical support) that relieves pain, symptoms and stress caused by serious and/or terminal illnesses, which gives comfort to the patient and improves their quality of care. Palliative care is often a part of hospice care. Hospice, palliative care and medical aid-in-dying can, in the best of circumstances, work together.
After consulting with Compassion & Choices, Jim and Eve decided that Jim would abstain from all food and liquids to end his life. It would take days, perhaps a week or more for his body to shut down. Given their limited choices, the couple felt this was their best option. They called a local hospice care center and to their relief, the center was supportive of Jim and Eve's decision.
They agreed to assist Jim with palliative care, which would include medications to ease his pain and let his body relax. They would also provide emotional support for Jim, Eve and their loved ones. Soon after the hospice center approved Jim's case, he stopped all sustenance.
Jim died six days after he declined all food and drink. He struggled with some discomfort and dry mouth, but found that once palliative care was administered (the medications to assist his body and help to alleviate pain and agitation) he was able to be himself again, Eve says. Jim's last days and hours were spent with his wife. No one else was in the room, just as the couple wanted. Jim died 51 weeks after his first ALS symptom.
How to start a conversation about end-of-life wishes
"We should be having these conversations all along," Eve says.
Compassion & Choices recommends that anyone over 18 have an advanced planning directive (such as a living will) and to designate someone you trust as an advocate. "That representative needs to understand and be on board with the individual's preferences and choices. Even the "what ifs" that come along—that representative should have an understanding of what the individual would want," Haile says.
Once you have an advanced directive or living will (different states have different names for this type of document), make sure there are copies with the appropriate doctors, family members, or at a loved one's care facility and available for the hospital in case of an emergency or admittance. An advanced directive, sometimes called a living will, includes clauses where you can be specific about whether you want to be ventilated (a tube placed in your mouth and throat for air), whether you choose to be resuscitated, or would choose other life-prolonging procedures.
Talk with your spouse, your children, any spiritual or religious advisors you may have, and your care community (care aides, physicians, and facility personnel) about your wishes. You might try broaching the topic at a church gathering, and have those heart-to-heart talks with those closest to you. Don't wait until you or a loved one has a terminal diagnosis to start the discussion. Be the forerunner in your circle of influence and share your concerns and questions so that others begin to feel comfortable about voicing theirs.
If you have trouble starting the conversation, try role-playing, or make note cards and practice. Compassion and Choices offers online tools to help get the discussion started.
What if I share my end-of-life plans and others disagree?
When family members express a preference for medical aid in dying, they're often met with respect and understanding. However, the decision can be more hurtful if you spring it on a loved one toward the end of the dying process. It's okay if your loved ones struggle with your decision – that's normal. Give them time. Answer their questions as best you can, but know that it's ultimately your decision to make. While it is a very personal choice, it helps to have support. No one should go through this alone.
Is medical aid in dying legal?
As of March 2018, medical aid in dying is legal in five states (Oregon, Washington, Colorado, Montana and Vermont) and the District of Columbia. Physicians and patients must follow the medical aid in dying laws in these states. In the rest of the United States, however, it's illegal.
Oregon was the first state to pass an medical aid in dying law, known as the Death with Dignity Act. The legislation was passed in 1997 and has been a model for other states. The Oregon Health Authority tracks anyone who undergoes medical aid in dying, the doctors who prescribed the lethal medication and how the patient died. This data has shown that only a very small segment of the population requests a medical aid in dying prescription, and of those who do, 30% ultimately did not take the prescription.
Are attitudes changing about end-of-life choices?
"It's becoming less taboo," says Barbara Coombs Lee, president of Compassion & Choices and the author of Oregon's Death with Dignity Act. Whether to choose medical aid in dying is highly personal, and it's certainly not right for everyone. Choosing to hasten your death raises a number of ethical and moral issues. But as we face a growing elderly population in the coming decades, conversations about how we choose to spend our final years and how we choose to die become ever more crucial.
Eve Eliot is optimistic about future discussion around medical aid in dying.
"I think we're coming very close to a much more sophisticated point of view mostly because of the number of aging Americans who are caring for their parents. I think we're getting saner. We are. I think we're going there. I had a professor in college who told the class that as Plato was dying the great philosophers Socrates, Aristotle gathered around his bed and asked him, "Tell us what we need to know.' Plato replied, 'Practice dying.'"