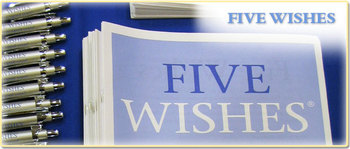 All Rights Reserved
Who do you want to make health care decisions for you when you can no longer make them?
What kind of medical care do you want -- or not want?
How do you want people to treat you while you are ill?
What do you want loved ones to know about your health condition?
It's overwhelming, when you think about it -- all of the medical, care, and quality-of-life decisions that must be made regarding people with chronic or terminal illnesses. All too often, these decisions are left to family members who aren't prepared to answer them for their loved ones.
Inspired by Mother Teresa, Aging with Dignity is on a mission to affirm and safeguard the human dignity of individuals as they age. Paul Malley, president of Aging with Dignity, explains how the organization aims to promote better care for those near the end of life.
Please tell us about the mission of Aging with Dignity.
Paul Malley, president: We are a private nonprofit organization based in Tallahassee, Florida, with a mission to honor the human dignity of the most vulnerable among us. What does that mean exactly? Practically, it means that our efforts are aimed at one particularly vulnerable population: those living with a serious illness or a disability, as well as those who care for them. We help those individuals, their families, friends, healthcare providers, and caregivers to clearly understand what dignified care means. When we say dignified care, we are not speaking in an abstract sense, but in a real and tangible expression of what dignified care means to that person. The mission of Aging with Dignity was directly inspired by the work of Mother Teresa of Calcutta. Our founder, Jim Towey, was legal counsel to Mother Teresa for 12 years. He also lived full-time in one of her homes for the dying, and it was this experience that inspired him to found Aging with Dignity and create the Five Wishes document.
What is Five Wishes and why is it so popular?
PM: Five Wishes is an advance directive that allows all adults to make important healthcare decisions before a serious illness. It is used to give instructions to your family, friends, and healthcare providers about the types of medical treatments you would want, or not want, if you become seriously ill and can no longer speak for yourself. The concept of an advance directive has been around for decades, but most Americans have not filled one out.Five Wishes is different, and popular, for several reasons:
It's easy to understand. Many advance directives were written by well-meaning legislators, attorneys, and doctors. The documents answered many important questions, but they were very hard for most people without medical or legal training to understand. Five Wishes set a new standard by "translating" the medical and legal jargon into a form that is more understandable and user friendly.

It includes important personal preferences. Again, the first generation of advance directives -- most of the documents written in state statutes -- were created to answer the questions that were most important to doctors and lawyers. Five Wishes is different because it aims to answer the questions that are most important to the person who is seriously ill and his or her caregivers. For example, when people are asked to list the things that would be most important if they knew they were near the end of life, people responded: I want to be at home, I don't want to be in pain, I want to be prayed for, I want my family to know that I love them, I want my loved ones to be at peace with each other. Five Wishes is the only widely available advance directive that meets the legal requirements in most states and also includes these issues identified as "most important" by the majority of people.

It helps communication. It is broadly agreed that talking about your advance directive -- explaining your thoughts and decisions to your loved ones and healthcare providers -- is just about as important as signing the legal document. But imagine taking a typical legal document (let's say the forms you sign when you buy a house) or medical paperwork (let's say the forms you sign when you're admitted to a hospital) and trying to summarize these documents clearly to your grandparents, parents, siblings, friends, or adult children. Hard to imagine? You're not alone. And that's why many people who completed a legally valid advance directive many years ago did so, and didn't tell anyone about it! Five Wishes puts advance care planning on your turf in terms that are comfortable. We may not all know the legal and medical nuances, but we know what it means to maintain our dignity at the end of life. Five Wishes helps us express these thoughts.
Why is having an advance directive like Five Wishes important?
PM: Put simply, if you do not make these decisions for yourself, someone else will make them on your behalf. If you do not designate a healthcare agent -- the person who will make your healthcare decisions if you are unable -- then most state laws designate the person who will make your decisions. If you have not given any instructions about your thoughts regarding life support treatment -- when you would want it, or not want it -- then your family will likely be called on to make this decision. They may all agree on the decision, or they may not. Even in the best cases, when there is broad consensus among loved ones about the course of treatment, we often hear stories of second-guessing that goes on for decades. In the worst cases, we know of siblings who never spoke to each other again after disagreeing about the best care for a parent. Having a document like Five Wishes is important because it is a gift to your loved ones. It removes the challenge of making decisions on your behalf without any instruction from you. It resolves family disagreements before they begin. And, perhaps most important for those caring for you, it provides an instruction book for what good care means to you. So often, we hear people say, "I've never cared for a dying husband (or wife, or parent), and I don't know what to do." Five Wishes answers this question. Thankfully, most of us may not be called on to make difficult decisions about life-support treatment. But all of us, at some point in our lives, will care for someone whom we love. If that person has provided the gift of a completed Five Wishes, then you will know what being a good caregiver means to that person. You will know not just their medical treatment decision but also that they want to have music played, or particular visitors, or photos displayed, or prayers said. With more than 19 million Five Wishes documents in circulation, the stories we hear most focus on these tangible expressions of caregiving and what it means to care well for someone near the end of life.
When should a person create an advance directive?
PM: The day they turn 18 years of age. Every adult has the right to make these decisions -- to appoint a healthcare agent and give instructions about the types of medical treatments they would want or not want. We already talked about what can happen when someone does not have an advance directive, and these results are the same for a man or woman who is 18 or 108. In fact, some of the most difficult circumstances surround the illnesses of young people, often resulting from a sudden health crisis or traumatic injury. This is the reason that we work with employers, large and small, to provide Five Wishes to all adults. It's part of the prudent planning that goes alongside our decisions about health insurance and retirement planning. This is also the reason that we provide resources for different age groups. The pediatric document My Wishes helps seriously ill children express their thoughts to their parents and caregivers. The newest document, Voicing My Choices: A Planning Guide for Adolescents & Young Adults, was developed through research by the National Cancer Institute at the National Institutes of Health.
The idea of creating a living will or advance directive can be a sensitive topic for many people. How do you suggest addressing the issue with loved ones?
PM: Don't start by putting someone in the hot seat. Here's what I mean by that: Too often, we take an advance directive to the oldest person in our family, or a person who just received a serious illness, and tell them they should fill out the document. Nobody likes to be in the hot seat, especially related to such a sensitive topic. There is an alternative. If you want to take the lead in your family, start by filling out Five Wishes for yourself first. This will help you become more familiar with the material before bringing it to someone else. It also allows you to eventually start a conversation by telling the other person, "I've made some important decisions for myself and I'd like to tell you about them." That's a perfect launching point for talking about Five Wishes. By the end of the conversation, the person with whom you are talking is more likely to see the value. They may even come up with the idea themselves and tell you they've decided to fill out a Five Wishes also! Make it a family event or a party. Yes, I know it sounds odd to have a party to fill out an advance directive. But people do it because they like not feeling alone in the process. They like seeing that we're all in this together -- whether it's a family, a faith community, or a group of friends. We've heard of Five Wishes family discussions happening around the holidays because it's a natural time when everyone is together. Here's another idea that is timely: I know of one family that filled out Five Wishes together at a Super Bowl party. They decided this would be more beneficial to the family than watching the halftime entertainment and wardrobe malfunctions. So they turned off the TV at halftime, talked about their Five Wishes for 30 minutes, and the game was back on in time for the second half. They said it was helpful to have a defined time for the conversation, and even better because everyone went home happy when their team won.
There are many different aspects to an advance directive -- type and amount of care to be administered, decision-making authority, and access to information, to name but a few. Are there any aspects that are particularly important to address clearly in an advance directive?
PM: All of the above. If it stands out in your mind as being important, make sure it is included in your advance directive. However, I do believe that one of the most important things is to designate a person you trust to make healthcare decisions on your behalf if you become seriously ill and unable to make your own decisions. I say this is the most important aspect because this person is responsible for interpreting your directions and guidance. This is the person who your doctors and health care providers will turn to for direction. So, above all, make sure you named a person who you trust to be your healthcare agent (sometimes called a Durable Power of Attorney for Health Care). We include this in Wish 1 of Five Wishes, and the fact that it begins the document illustrates its importance.
Aging with Dignity believes we, as a society and as individuals, have a responsibility to care for the most vulnerable among us: those who are sick, aged, weak, disabled, poor, and isolated. In terms of advocacy, what are the most pressing issues Aging with Dignity is currently supporting?
PM: Our most pressing issue is protecting the rights of patients and family caregivers to make their own healthcare decisions. There are still eight states that make it unnecessarily difficult for people to express their end-of-life decisions in their own words. These states require the use of mandatory forms for advance directives. The State of Ohio, for example, even mandates the size font that must be used in the document and requires a lengthy warning statement that is akin to a Miranda warning for anyone completing an advance directive. We are also closely watching the development of physician-order models for end-of-life decisions, which can be very helpful for patients near the end of life but can also cause a great deal of confusion if used inappropriately.
Tell us about Hope Today.
PM: Hope Today is a pilot project in two of our neighboring North Florida rural counties. We employ one project coordinator who works with local volunteers, community organizations, and faith communities to help meet the needs of those who are seriously ill or disabled. We are motivated again by the inspiration we draw from Mother Teresa, who said that one of the greatest diseases in the world is loneliness. In these rural counties, like most places, loneliness is a reality. This region is hit hard by economic challenges and a dissolving oyster harvesting sector. It is also home to people who lived very self-sustaining lives until a serious illness or disability made their independent lifestyle all but impossible. The delivery of services is a challenge because the nearest large hospital is a two-hour drive away and community resources are scarce. Hope Today fills in the gaps, first by simply establishing a relationship with individuals in need. Rather than focusing on a particular service need, we focus on getting to know the person. We focus on the great worth and value -- the human dignity -- of the person. As a result, our visits may include a few hours of sitting in a person's trailer or on a front porch, just talking. In the grand scheme of service delivery, it may seem inefficient, but it touches deeper than a provision of services. It aims to touch the heart and soul and to affirm the individual's dignity. Of course, when you spend this much time with someone, their needs become evident. So our Hope Today volunteers have built ramps for those who have become homebound because they can no longer navigate the steps to their front door, they have cleaned homes to forestall evictions, they have helped with recovery following hurricanes, they have done just about everything. But the most important moments are often those sitting on a couch in the living room, or at the dining room table, or on a rocking chair on the front porch.
How can people get involved with and/or donate to Aging with Dignity?
PM: Become part of the Aging with Dignity movement by spreading the word! Of course, all donations help to further our work. But even more than contributions, we could use your help. Take a moment to think about the groups of people in your life who could benefit from hearing this message or receiving a copy of Five Wishes. It could be your family -- all of them, even the ones out of town. It could be your faith community. It could be your coworkers or the members of your community organization or club. Visit our website at www.agingwithdignity.org to obtain copies of Five Wishes. You don't need any special training to start the conversation -- all the information that you need is included. If you need help, just call us. The best way for you to help is to help the people around you. We are here to make that possible.