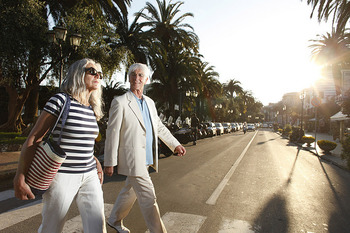 All Rights Reserved
Each generation defines itself, and baby boomers have long been known as a special generation. Boomers grew up during a time of dramatic social change, and now that many are reaching their senior years, care providers are focused on meeting their needs.
We asked our experts for a few examples of how baby boomers are changing the senior care industry as they age, and here is what they say:
Boomers Are Projecting and Planning
The first thing is that being a senior doesn't necessarily start at age 65. Although 10,000 boomers are turning 65 each day, they aren't yet ready to be put out to pasture, nor do they need care (at least not of the caregiving kind). Turns out that the criteria for having care needs is dependent on frailty, not age. In fact, if you look at the population requesting care services, it is by and large the over-85 contingent. So the influx of seniors isn't really affecting the caregiving world today -- but projections are that the numbers needing care will be overwhelming in about 20 years. This generation's effect, then, is one of projections and planning.
-- Merrily Orsini is president/CEO of CoreCubed.com.
Boomers Are Holding on to Health and Responsibilities
My husband Dan is 65 and just launched his second career after retiring as a school administrator. Like many of the 760 million people in the world over the age of 60, Dan is rethinking what it means to retire and grow old.
As an author of caregiving books, a radio guest, and a caregiving seminar speaker, I find myself addressing the issues of aging in today's culture. My most recent book, It Is Well With My Soul: Meditations for Those Living With Illness, Pain, and the Challenges of Aging, addresses many of these issues:
Baby boomers are reinventing the concept of retiring. They are seeking the second careers they have always dreamed about, creating flexible schedules, investing their life experiences in their communities and the world. My consulting work is often for the boomer who is managing a new or extended career while overseeing the care of a loved one.
Baby boomers are taking on greater responsibilities as caregivers for spouses and younger family members struggling to survive in a challenging economy. In their caregiving roles, boomers need to seek out creative ways to care for themselves and create a network of support that will sustain them for the long haul. I offer suggestions for creating the flexible and sustainable caregiver support systems that are so important to boomers.
Baby boomers are increasingly attuned to improving their quality of life. They care about health, fitness, and nutrition. I often find myself in the role of assisting people in making appropriate temporary and long-term housing and caregiving transitions that suit their lifestyles among the many choices available today.
-- Shelly Beach is the author of three caregiving books, including It Is Well With My Soul: Meditations for Those Living With Illness, Pain, and the Challenges of Life
Boomers Are Customizing the World to Their Needs
Whereas the Greatest Generation went about their days working hard and not drawing attention to themselves, we 72-million strong baby boomers are a vocal bunch. We won't sit down quietly. If something's not right, we want to be heard and we want to see action based on our feedback.
For this reason, we cannot offer boomers a one-size-fits-all solution. For example, we boomers invented the idea of mass customization -- customizing products and services for individuals among the masses.
Additionally, because of the range of years in which we boomers were born, the leading-edge boomer born in 1946 is very different from the "bleeding-edge" boomer born in 1964.
As a boomer born closer to the bleeding edge of the continuum, and despite the suffering created by self-serving leading-edge boomers, I remain optimistic about as-yet-undiscovered innovations our generation will offer the world.
Yesterday, the insane asylum and the sanitarium. Today, the nursing home, assisted living, and residential care. Tomorrow, independent living options and ???
-- Brenda Avadian is the author of nine books, including Finding the Joy in Alzheimer's -- When Tears Are Dried With Laughter
Boomers Are Making Lifestyle Choices for Health
I help my clients, in particular the boomers, raise the bar on their expectations of what aging looks like. All we know of aging is what we have seen within our respective cultures and families, and this colors our perspectives on what to expect as we ourselves age. Our parents may have seen their parents becoming more limited physically and mentally. It was the expectation that they would be on blood pressure or diabetes medicine, or a little purple pill for reflux or heartburn. These medications went hand in hand with mounting birthdays.
I work with my clients and their physicians to get to the underlying cause of conditions through lifestyle changes, with the ultimate goal of minimizing or, if appropriate, eliminating many of their medications. After all, many of the "diseases of aging" are lifestyle related. The clients that I work with are seeking every possible complementary approach to change the face of aging and maximize their body's healing potential.
Consider the following:
What is possible at this point? You don't know until you commit to the journey! We are part of medical community that often stops at the diagnosis and approaches disease with "a pill for an ill" mentality. Certainly there is often just cause and much to gain from many prescriptive medicines, but rarely is the cause deficiency of a medication.

Try to determine the degree to which your symptoms may be due to lifestyle choices.

If you're diagnosed with a chronic condition, ask your physician if he or she is comfortable giving you three good months to make the necessary lifestyle changes that are needed to bring your "numbers" back into a healthy range. If you need to, seek help and support to do this.
-- Beth Reardon works with boomers in the field of nutrition and health.
Boomers Are Taking Control of Aging
For years I've worked with 70- to 95-year-olds in Fall Stop . . . Move Strong, my fall-prevention and strengthening program. Through the education and fitness exercises I've created, we address balance, strength, and general wellness. I am now seeing a surge of boomers joining the program.
What I find most notable about boomers is that they have a sense of taking control, defining their course as they age. They are realistic about their age-related changes but approach aging proactively, and with optimism and zest.
Boomers come to class to work hard, and they expect in return that I will provide the expertise and knowledge to help prevent falls and achieve their fitness goals. Is this different from older adults? Boomers know what they need and they come to get it, or they know the questions they should be asking and they come for answers. The older class participants, both because they are older and because they started preventive exercises later in life, find their aging journey can be more difficult -- and frightening. Today's older generation, when they were boomers' ages, did not share the preventive attitude that prevails now.
Preventive awareness has come earlier to the boomer generation. They show up, and I reconsider my class music choices and may provide them with more daring movement exercises, but the work I give my boomers and older adults is essentially the same. Everyone bonds. There is no sense of them and us. They work hard side by side and support each other. Boomers push me to be even more creative in class. They are a generation that changed the world in many ways, and they bring a great creative energy into the room, which in turn impacts the older participants. It makes the class experience that much more fun.
-- Celeste Carlucci is a fitness expert and founder of Fall Stop . . . Move Strong.