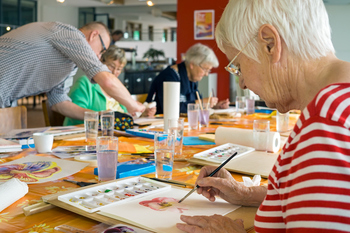 All Rights Reserved
Each year, some 34.2 million Americans provide uncompensated care for an adult aged 50 or older. It's a tough task that is tempered by love and loyalty, two characteristics that are as priceless as they are impressive.
But even the most devoted family caregiver can't be all things for the aging loved one in their charge. That's when adult day care programs can be a lifesaver, both for the family caregiver and their loved one. Here are six great reasons to give adult day care a try.
1. It Gives Caregivers a Much-Needed Respite
Tending to an ailing or disabled loved one is a taxing job, and adult day care can stand in for a caregiver who is attending to other obligations or simply needs a break.
"Oftentimes, caring for a sick family member with a disease like pancreatic cancer can lead to caregiver burnout," says Nicole Feingold, director of patient services at PanCAN, a nonprofit serving pancreatic cancer patients and their loved ones. "Adult day care is sometimes a necessary option."
By entrusting their loved one to a regulated, licensed adult care program or facility, family caregivers also avoid the lengthy vetting process and financial burden that typically accompany in-home assistance.
2. Additional Access to Crucial Services
Thanks to Medicare, most elderly Americans receive some level of health care once they reach 65, but availability doesn't always mean access. The same goes for other key components of a healthy lifestyle. Lack of transportation, mobility issues and even procrastination may keep patients from routine physicals or grocery store visits, resulting in an unchecked illness or skipped meals. While the primary caregiver often fills in the gaps, adult day care can offer a more stable and regimented solution.
"Some adult day care services, like Mercy LIFE, offer primary care and physician specialist services, nursing care, rehabilitation therapy, dental, vision, hearing and foot care medical equipment; home care; home-delivered meals, mental health and social work services; caregiver support, personal emergency response systems, plus transportation, recreational and social programs,"says Dr. Donna Raziano, chief medical officer at Mercy LIFE, a nonprofit that operates five adult day care centers in the Philadelphia area.
Those programs may represent the only realistic opportunity a Mercy LIFE participant has to receive specialist care, and the convenience makes it more likely that a doctor could catch an illness early and provide care in a timely manner.
3. Participation in New Hobbies and Activities
Life doesn't stop at 65, but exposure to new activities might lessen considerably with age. For active older adults who crave ways to stretch their creative wings or share lifelong skills, participating in fun-filled activities both in their own social groups and in the service of others can be invigorating and fulfilling.
"At Mercy LIFE, seniors participate in recreational therapy and social events, including fashion shows, birthday celebrations, dance therapy, pet therapy, senior proms, charity programs, crafts, arts and much more," says Raziano.
4. Social Interaction Does a Body Good
Research by the National Institute on Aging shows that older adults who experience social isolation may not be as healthy as their more socialized counterparts. On the other hand, maintaining existing social relationships and establishing new ones could help our parents and grandparents control their morbidity and mortality rates.
One possible factor? Lower levels of interleukin-6, an inflammatory marker associated with the development of age-related diseases such as osteoporosis, heart disease, cancer and Alzheimer's.
5. A Chance to Live Outside the Box
Isolation is generally interpreted as solitude, but when aging adults seldom see anyone outside of their own family, that lack of stimulation can be stifling as well. Sometimes our aging parents need a break from their minders and a chance to spread their wings, be a little ornery or just test out a new skill.
"I was surprised when I found my mom dancing in her care program," recalls Kay Bransford, a money manager who works with older adults in need of help with their home and finances. "She would refuse to do it when my dad asked, so I would have never thought to suggest it. The brain likes change, and outside programs offer options family and loved ones would not consider."
6. It Helps Create a Routine
Retirement can be a blessing and a curse; the latter is especially true for elderly adults who no longer have a concrete reason to leave the house. As days bleed together and the weeks march on, it's easy to fall into a rut, staying up until the wee hours and sleeping in past noon.
The occasional lie-in isn't necessarily problematic, but a lack of schedule can lead to everything from poor nutrition to anxiety and depression. When a good night's sleep is continually compromised, the risk of memory loss and chronic disease increases.
Daily or even weekly trips to adult day care can anchor a new routine, giving loved ones a reason to get up, get dressed and get moving. Having something to look forward to is motivating for people of all ages, but for those individuals who no longer have kids to care for or a workplace to visit, those scheduled events are even more important.
From meditation to mammograms to making spring rolls for the very first time, there are a number of new experiences awaiting you or your loved ones should you choose to give adult day care a try. When you need a rest from each other or just a chance to meet new people and try new things, joining an established program could be the key to helping an aging loved one get more out of their golden years.