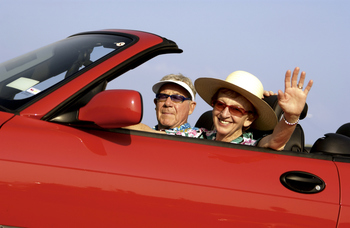 All Rights Reserved
Sunday afternoons have their own rhythm. They're great times to take a nap, gather with family and friends, or take a Sunday drive. Remember when you and your family used to pile into the car and just drive? For many older adults, it's a good time to get out of the house and enjoy a bit of scenery. A Sunday drive doesn't have to have a destination. You can enjoy nature, take in parts of your area that you haven't seen in a while, or just see where the road takes you.
What you'll need:
A Sunday drive doesn't take much -- just a few hours, a tank of gas, and someone willing to be the driver. Optional: some music, a snack, pillows, and a lap blanket to make the drive a bit more comfortable.
Why it's great:
A Sunday drive gets you all out of the house, and your loved one can enjoy a change of scenery without having to worry about walking long distances.

It's offers a chance to explore your own community. We tend to drive the same way when running errands, and we seldom veer from that path. What about all those other roads? Aren't you curious? You might find a better route.

Take this opportunity to check out new locations. Are you thinking about moving? Need to consider a long-term care facility -- one that's nearby? How about scoping out a new church or different doctor? A Sunday drive gives us the time we need to see what else is out there.

A Sunday drive can be something we look forward to. Who gets to plan the route next week? Are you thinking about stopping for dinner somewhere new? Trying an ice cream stand along the way? Buying a gallon of apple cider? Planning routes and making decisions are things we shouldn't hog -- our loved ones need to feel their choices matter, too.

The car can be a great place for a difficult conversation -- or any conversation. You each have a captive audience, and without pressure, topics (and issues) come up more easily. Another reason a drive provides a great place to talk is that you don't have to look at each other. It takes some of the pressure off to be able to pause, look out the window, or fiddle with the radio as you work through what you need to say.

A Sunday drive can be a way to relax and unwind after a stressful week. Sometimes we can't sleep during the day, but the rhythm of the road, changing views, and the hum of the car can help us de-stress.

A Sunday drive can connect us to our past. Have you or your loved one lived in your community for years? Taking a drive past an old elementary school, through an old neighborhood, or to favorite haunts can rekindle old memories.
How to do it:
Don't worry if your road trip is long or short. Just take off. After a few Sunday drives you'll begin to see how long your loved one can sit, what's a comfortable pace, and what views he or she seems to enjoy most.

Be sensitive to physical needs -- how long your loved one can sit, when he needs to empty his bladder, if he needs a sweater or extra back support.

Avoid car fights by not worrying about getting lost. Expect to get lost -- that's part of the fun! Don't rush, drive more slowly than usual, turn around when you need to, and realize what a gift a Sunday drive is for you as well.

Be sure to pack your camera. You never know what you might come across!