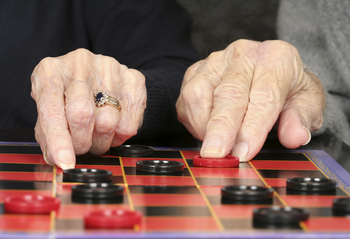 All Rights Reserved
When was the last time you played checkers or jacks -- or tiddlywinks? It's still fun -- and you already know how to play. Classic toys have made a comeback. And they're a great way to connect with children and grandchildren. Who says toys and games are just for the young? They're for the young at heart!
What you'll need:
Classic toys and games, such as pick-up sticks, checkers, backgammon, paddle ball, Chinese checkers, tiddlywinks, or jumbo jacks; a decent size table; good light; and someone to play with -- your loved one, your neighbor, your grandchild, your adult child, your care aide.
Why it's great:
Toys and games remind us of when we were young. We have our favorites, and we can tell stories of who we played with, how we learned, and our best game ever.

Games give us the opportunity to teach. Teaching them takes patience, communication, and helps us draw on information we haven't used in decades.

Many games teach strategy. We have to think several moves ahead.

Games remind us to be humble winners and gracious losers. We're reminded to be good sports.

Games engage us in ways TV doesn't. We have to interact, talk, and plan our rematch!

Toys remind us how good it is to play. We can let loose, imagine, explore, build, try, fail, and try again.

Toys and games are frugal fun. You might already have some of them. Or you can buy most classic games for less than ten dollars -- or even get them at secondhand or consignment stores.
How to do it:
Raid your closet, or ask your family or friends to see what toys and games they have. If you're a caregiver, try to assess if your loved one has the cognitive ability and physical dexterity to manage a toy or game.

Don't worry too much about rules. And be ready for your loved one to surprise you. Let him or her try a few different games and help make the choices.

Institute a Game Night -- or a regular game time: right after dinner, for example. It gives you and your loved one (and other family members) something to look forward to.

Leave the toys out. Your loved one just might wander over to the toy table and try his own hand at tiddlywinks. Practicing without someone watching lessens the pressure and helps your loved one work through some of the physical or mental challenges he or she might be facing.

Pack a toy or game for a hospital or rehab stay, when visiting family or friends, or even when eating out.

Branch out to other classic toys and games, such as origami; cat's cradle and other string games; or using a kaleidoscope, yo-yo, Slinky, or Silly Putty.