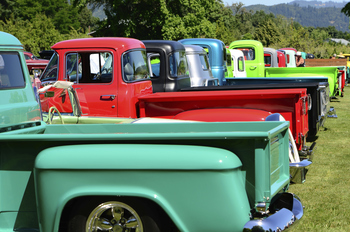 All Rights Reserved
Most men enjoy cars. That's why a car show is a great activity to enjoy with your dad (or husband, or any guy). Car shows take place all over the country, ranging from a gathering of local car enthusiasts to high-end shows. It's a great way to spend a few hours.
What you'll need:
Check with your your local auto parts store for a listing of upcoming car shows -- or search online. Most major cities have an annual auto show at least. Some car shows charge a fee, but many of those offer discounts. Consider taking along a couple of stadium seats (those small, collapsible chairs) so you can take a break if you get hot or tired.
Why it's great:
Most guys enjoy cars, and it will delight and surprise them when you suggest spending a few hours perusing old or new vehicles.

You can tap into memories. Even many older adults with Alzheimer's can remember what car they owned in their 20s.

It sparks conversation. What was his first car? What's his dream car? Share what cars you like as well.

It's multigenerational. Take your son, nephew, neighbor, or daughter -- girls like cars, too!
How to do it:
Check your area for car museums. Many small towns have impressive museums.

You can even take a drive to some of your local dealers and check out the new and used cars. Don't forget the high-end dealers, so you can dream about that Lamborghini you want for your next birthday!

What about model car shows? They often travel the country. You could even make a model car together -- another fun activity you can do at home.

Don't rush. Car shows for men are like the mall for women. Don't just stand on the side -- encourage your loved one to strike up a conversation, look under the hood, or sit in the passenger seat. Take a photo of him. Buy some ice cream, and let him take his time.

Make it a fun family day. Many car shows have music, arts and crafts, and contests, so be ready to have a great day.
To get started, take a look at the North American Car Show schedule and the Antique Car Club of America schedule.