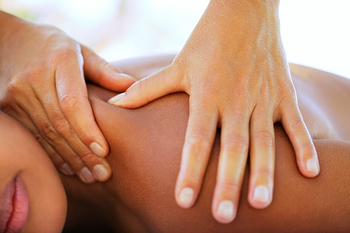 All Rights Reserved
Rheumatoid arthritis (RA) is often a frustrating disease. It can have all the bewildering symptoms of an autoimmune disease, as well as the ups and downs of a chronic pain condition.
Luckily, even on bad days there are steps you can take to help counter your rheumatoid arthritis symptoms and get back to your normal life. Here are seven things to try:
1. Schedule a massage with a licensed therapist.
Massage therapists offer a range of modalities that can help with rheumatoid arthritis -- everything from drool-inducing Swedish massage to intense deep tissue massage. Sessions can often be cheaper than physical therapy (though they aren't often covered by insurance) and can help reduce muscle and joint pain. Make sure to check with your doctor before starting massage therapy, and be up-front with your massage therapist about your condition and any pain you experience during or after therapy.
2. Try an acupuncture series.
A trained acupuncturist will insert tiny needles into various places around your affected joints and elsewhere on your body. In traditional Chinese medicine, it's thought that these little jabs can help regulate your body's chi, or energy, and help correct imbalances that lead to pain and disease. Although Western research studies have been unable to prove that acupuncture works well for the treatment of rheumatoid arthritis symptoms, some people do report relief.
3. Find a low-impact sport.
High-impact sports, like running or basketball, can put a lot of strain on your already inflamed joints. Instead, give your knees and ankles a break by taking up walking, swimming, biking, yoga, or tai chi. You'll be able to keep your heart healthy with cardio work while keeping your joints happy with gentle movement and stretching.
Over the long term, exercise can help you maintain range of motion in your joints, keep your muscles strong, and generally stay fit. And in the short run, moving around has been shown to increase endorphins, those happy hormones that fight pain and boost mood.
4. Take a nap.
One key to managing your rheumatoid arthritis is maintaining a careful balance between exercise and rest. Rheumatoid arthritis can cause fatigue along with pain, so it's important to listen to your body and take breaks when necessary. Even a short rest might help you bounce back better from a workout or a long morning of work or errands.
5. Avoid inflammatory foods.
While there's no definitive evidence linking rheumatoid arthritis symptoms to certain foods, some people feel better when they eliminate common problem foods, including wheat, dairy, or soy, from their diet. Processed foods, sugar, caffeine, and high-fructose corn syrup are also inflammatory foods you can try eliminating.
And, of course, eating plenty of fruits, vegetables, and whole grains has been shown to boost overall health.
6. Get more omega-3s.
Both fish and plant oils, with their omega-3 and omega-6 fatty acids, have been shown to reduce inflammation and provide some modest relief to people with rheumatoid arthritis, but finding the right dose can be a problem.
As usual, talk to your doctor before starting any supplements to make sure they won't interfere with the medications you're already on (fish oil can interact with blood pressure drugs and blood thinners, and primrose oil can mess with psychiatric drugs) or cause scary side effects, such as increased bleeding (borage seed and primrose oil) and worsened liver function (borage seed oil).
7. Try mind-body pain management techniques.
It might sound way out there, but it's backed up by scientific studies: Some people with rheumatoid arthritis find techniques such as biofeedback, hypnosis, meditation, and prayer helpful in coping with their pain and anxiety. If clearing your mind seems a little difficult amid all the pain and stress of rheumatoid arthritis, you can get guided imagery or mindfulness meditation CDs, join a relaxation or yoga class, or work with a trained therapist.
Or focus on gratitude: Some people find it easier to cope with the stress and pain of their own illness when they make an effort to think about all the things that are going right in their lives.