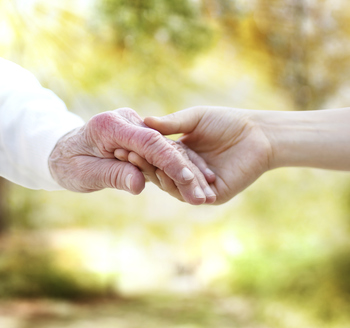 All Rights Reserved
Chances are, you or someone you know is caring for an aging parent, spouse, or another family member or friend. And the older you get, the more you're likely to see such responsibilities affecting those in your circle of friends and acquaintances. "At my last book group meeting, we realized all but two of us are taking care of older parents either living nearby or long-distance, and some married couples are responsible for the needs of two sets of parents," says Amy, a bank manager from Minnesota, who juggles long work hours while flying back and forth to Florida to help her mother.
In some cases, these caregivers are lucky, and their parents can afford in-home care or a move to senior living. But it's increasingly common in America today to see family caregivers – primarily women - taking on the burden of unpaid care, adding those responsibilities to already full plates. It's also all too common for those caregiving needs to come on suddenly, and as something of a surprise, turning lives upside down and schedules into chaos. Here, six important things to know about caregiving in America today to help you prepare.
1. Most Adults Will Need Care In Their Later Years
Most of us simply don't understand how long we're likely to live if we're lucky enough to stay healthy. The American Society of Actuaries (SOA) projects that half of all American men and 62 percent of women with better-than-average health will live to be 85, and the average life expectancy rises every year. Those with average health have only slightly lower odds, with 40 percent of men and 53 percent of women living to 85. The longer lifespans are a good thing, of course; the problem is that, according to the SOA, almost half of us are underestimating our life spans by more than 5 years, which means we're not planning for those extra years.
And while all of us hope to remain strong and vital well into our later years, the average adult eventually needs some help to live independently, according to this year's caregiving poll conducted by the Associated Press together with the NORC Center for Public Affairs Research.
2. There are More Seniors, and Fewer Caregivers
Perhaps even more concerning is the fact that, as a society, we simply don't realize how the population is changing as so many people live into their 80s and even 90s. By 2040, 22 percent of all Americans will be over 65, almost double the 12 percent who were seniors in 2000. This means that nearly one in four Americans will be seniors, with fewer and fewer younger Americans to care for this aging population. The burden this places on caregivers is pretty clear, as is the dramatic increase in the need for long-term care services over the coming decades.
3. It's Common to Care for More than One Generation at Once
Almost one in 10 caregivers is caring for both children and seniors at the same time, according to the AP-NORC research. These caregivers are referred to as the "Sandwich Generation" for good reason – sandwiched between two sets of needs, they're squeezed and stretched thin by these responsibilities. "If I'm not driving my mother-in-law to a doctor's appointment, I'm driving my son to baseball practice – and sometimes I'm trying to figure out how to do both at once," says Rachel, a Southern California mother of three who also works part-time as a receptionist. When she and her husband made the decision to move his parents closer to them, she says, they didn't count on how much help they'd need navigating a new community. When her father-in-law developed Parkinson's and her mother-in-law had to give up driving, the responsibilities multiplied fast. "Life was crazy enough with two kids in high school and another in middle school, but now it's insane. I feel like I'm trying to be three places at once and I'm always stressed out."
4. You're Probably Underestimating Caregiving Needs – And Costs
One of the biggest misconceptions Americans have about senior care is what it's going to cost, and who's going to pay for it. Results from the AP-NORC poll show that Americans both underestimate the amount of care they're likely to need, and the potential cost of that care. As a result, most people are headed into their later years without the savings they'll need for future care needs. Only 38 percent of Americans surveyed reported feeling confident about their ability to pay for ongoing senior living assistance when and if they need it, while the other two thirds feel unprepared. And only a third of adults have money specifically set aside for this purpose. Yet despite this, 54 percent say they are doing little or no planning for these needs. More than half also said they hadn't discussed the subject of long-term care with their families.
Even those who are saving typically underestimate what they'll need by more than three times, according to a survey of adults aged 51 to 69 conducted by Nationwide Financial. And don't forget that costs rise year over year; 2015 data from Genworth Financial show an annual increase of three to almost six percent overall, primarily due to inflation, while individual costs can increase dramatically when a higher level of care is needed. Perhaps contributing to this lack of preparation is confusion about whether long-term care is covered by health insurance or Medicare – or both. (It isn't). According to the AP-NORC poll, 34 percent of adults 40 and up mistakenly believe that Medicare covers residential care, and another 27 percent are unsure. Similarly, 36 percent of those polled wrongly believe Medicare will cover long-term in-home nursing care and 27 percent say they don't know whether it's covered. In addition, more than 50 percent overestimate the amount of help available from Medicaid, and fail to understand that it's limited to only the lowest-income seniors.
5. You May End Up Covering a Loved One's Caregiving Costs
When parents and other family members don't have the money for long-term care, family members find themselves ponying up. Close to 50 percent of caregivers report spending more than $5,000 a year on out-of-pocket caregiving costs, while 27 percent spent up to $20,000, according to a 2014 annual caregiver survey conducted by Caring.com. Then there's the issue of lost work time; according to the survey, half of all caregivers had to adjust their work schedules to make room for caregiving. The result: many family caregivers find they must scale back their work hours or quit jobs altogether, resulting in lost income.
6. Caregiving Responsibilities Tend to Come On Suddenly
When their 86-year-old father fell and broke his ankle, his children expected him to return to his home in upstate New York after a brief stay in a rehabilitation facility, says Helen, a Seattle-based environmental engineer. At discharge, though, he was still frail and at risk of additional falls. And what had previously appeared to be relatively mild memory loss had become acute disorientation that left him calling her and her brothers at all hours of the day and night. After a family meeting to compare notes, the siblings realized their father was in danger and needed to move into assisted living right away. That meant a scramble for funds and options. "We always thought we'd have time to research all the different facilities and get Dad on board gradually, but instead we were forced to act fast and find the best situation we could," says Helen, who now makes monthly cross-country flights to check in.
---
What to take away from these insights? Most of us at some point will become caregivers, and these responsibilities may come on quite suddenly and at great personal and financial cost. But knowing this new role is coming, we can marshal resources, put plans in place, and be ready with preparation, not panic.
NOTE: Some names and identifying characteristics have been altered.