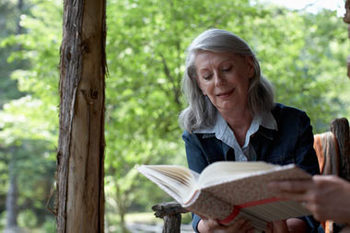 All Rights Reserved
One constructive way to channel the sorrow and heaviness of watching someone you love slip away is to focus on your loved one's legacy. We all leave one. It's "the unique footprint we leave for our time on earth," says geriatric expert David Solie.
There are countless legacy options, from writing a life story to taking an oral history. Such positive thoughts can help redirect sadder emotions.
Some of the more creative ways families have found to celebrate a loved one's life:
1. Start a scrapbook of memorabilia.
Corral paper mementos and key images into one beautiful book that other family members can share and look through.
2. Fill a memory box.
Even easier: Place favorite or emblematic items (a car key, knitting needles, medals, images, certificates) into an archive-style box. Invite family members to suggest what should go in it.
3. Donate prized, emblematic possessions.
Examples: Give a pianist's piano to a local school, a World War II uniform to a museum, a book collection to a library.
4. Create a memory quilt.
Invite family and friends to contribute squares celebrating the person's life, on which they can embroider, offer up photos to be transferred to fabric, or contribute in other ways. A similar option is to make a quilt, teddy bear, or other item out of scraps of the person's favorite clothing.
5. Carry on the person's hobby.
Does your loved one draw or paint? Consider using his or her materials to put a hand to it yourself, or framing his or her art to donate to a local nursing home or school. Learn the person's musical instrument. Collect a cook's best recipes and print up copies to share with others. Take a class so that you can become proficient at one of his or her skills.