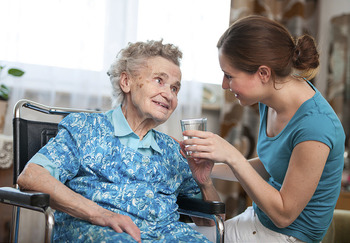 All Rights Reserved
As an aging loved one's health declines, the level of care needed to keep him or her safe and healthy may grow beyond the abilities of loving family and well-intended friends. And depending on the amount and degree of care required, some form of round-the-clock care may be needed.
Assisted living facility can provide that level of care, but it may also be possible to get the care you need at home, from a few different options.
Here's what you need to know when exploring your options for 24-hour in-home care.
What are my options?
There are two general types of round-the-clock in-home care, says Susan Sender, RN, chief clinical officer for Amedisys, a national home health, hospice and personal care provider.
SEE ALSO: Find In-Home Care Help Near You
Live-in care typically means that one caregiver (a home health aide or a personal care worker) lives in the home with the individual. "The primary duties involve safety and companionship along with personal care services," says Sender.
In this instance, a caregiver stays with the client 24 hours a day and does not leave. "They must be able to sleep for at least eight hours and five of those hours should be uninterrupted (often when the client is sleeping)," says Joyce Barocas, owner of in-home care franchise Right at Home of Lower Manhattan. Generally, caregiving shifts consist of three days for one caregiver and four days for another caregiver.
24-hour care consists of caregivers being alert and on duty at all times of the day or night. "This is typically for individuals who cannot be alone and need an alert caregiver nearby at all times because they do not sleep well, or sleep at odd hours and may be unsafe in their homes," explains Sender.
Twenty-four-hour care is often broken into two 12-hour shifts or three eight-hour shifts in a 24-hour period, says Barocas. "The caregiver does not sleep."
SEE ALSO: Find In-Home Care Help Near You
How much does 24-hour home care cost?
Live-in care is generally charged as a daily rate, whereas 24-hour care is generally charged at an hourly rate, explains Lakelyn Hogan, a gerontologist and caregiver advocate with Home Instead Senior Care. "No matter the level of care, the cost of either option varies based on the level of care needed and by the city and state of residence," she says.
Although sometimes live-in care costs can add up to less than what you might pay in assisted living, you also need to factor in the caregiver's meals plus room and board. "Some states also have overtime laws that would also result in added expenses for live-in care," Hogan says.
Depending on the level of care needed, live-in care and 24-hour care can exceed the costs of assisted living.
But Hogan says that paying those costs may bring families invaluable peace of mind. "Having 24-hour or live-in care ensures that a patient has one-on-one care, whereas a senior care facility generally has a higher staffing ratio of one caregiver to 6-8 older adults depending on the state regulations and company policies," she says.
Who provides the care?
The skill and training of a caregiver depends on the complexity of the case and the request of the family. If the care needed is within the scope of a companion caregiver or home health aide, it's not necessary to pay the higher rate of hiring a registered nurse or licensed practical nurse (LPN) as a caregiver. "Depending on a client's needs, anyone from a home health aide to an RN can be scheduled for both live-in or 24-hour care. It all depends on a person's needs," says Barocas.
What type of care is best for your loved one?
There's no one formula to determine who is -- or is not -- an ideal candidate for 24-hour home care. "It truly comes down to the individual's needs and the availability of the family," says Hogan. "If the individual truly needs around-the-clock monitoring, 24-hour care would be the best option as the caregiver rotation would insure that there is someone available to assist around the clock unlike the live-in caregiver that requires eight hours of sleep per night."
And for those with dementia, live-in care is generally recommended, since having multiple different caregivers could cause confusion, says Barocas.
When is it time to consider these options?
If a person cannot be left alone, is unable to exit the home in the case of an emergency or has any sort of cognitive impairment that could lead to them wandering or becoming disoriented or lost, it's probably time to consider 24-hour in home care, says Hogan. "It is important for families to assess their loved one's situation on a regular basis and plan for their future care needs and explore all of the options," she says.
Where can I find this type of care?
Ask your loved one's doctor or case worker for recommendations. Your state may also offer services to help you locate and/or evaluate potential 24-hour caregivers. "It is important for families to do their research and interview several companies and determine which one is best suited to fit their needs and their budget," says Hogan. "Important questions to ask include: Are the caregivers screened, trained, bonded and insured?"