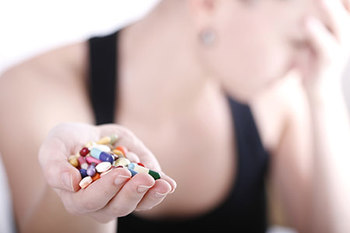 All Rights Reserved
What the Beers Criteria Is
Did you know that medications are one of the most common causes of falls and other serious medical events in older adults? This is because as people age, their bodies tend to become more sensitive to the side effects of many commonly used medications.
In 1991, Dr. Mark Beers, a geriatrician, published a list of medications that are particularly risky for older adults. This list became known to doctors as the Beers Criteria (or the Beers List). Since then, the list has been regularly reviewed and updated by an expert panel, most recently in 2012.
The most recent version of the Beers Criteria lists 34 medications and types of medications that are "potentially inappropriate" for older people. It also lists medications, used for 14 common health problems, that may also be "risky" in older adults.
Who the Beers Criteria Is For
The Beers Criteria was originally meant to be used as a resource for health professionals only.
However, HealthinAging.org (created by the American Geriatrics Society) provides the Beers Criteria for free to the public, in an easier-to-read format. It also offers additional information on how older adults and caregivers can avoid potentially harmful medications.
Why the Beers Criteria Is Important
Research has shown that older adults are often prescribed risky medications, sometimes without being thoroughly informed of the risks and of safer alternatives.
Older adults and caregivers can use the Beers list to see if any currently prescribed medications might be riskier than they had realized.
If you do discover that you or your loved are taking something on the Beers Criteria, don't panic. It may be that in your particular case, the benefits of the drug are likely to outweigh any risks.
Still, if you realize you are taking a medication on the Beers list, it's a good idea to ask the doctor to review the purpose of the medication and ensure that you aren't suffering harmful side effects or too much risk. You can also download HealthinAging's convenient printable guide, "What to Do and What to Ask Your Healthcare Provider if a Medication You Take Is Listed in the Beers Criteria." Find more information on safe medication prescribing for older adults.
Why the Beers Criteria Was Developed
Professor Donna Marie Fick, codirector, the Hartford Center of Geriatric Nursing Excellence, University of Pennsylvania: The developer of the Beers Criteria was Mark Beers, who originally developed it in 1991 as an explicit list of medications to avoid in older adults living in nursing homes. The criteria have been updated in 1997, 2003, and, most recently, in 2012. In 1997 the criteria were expanded to include drugs to avoid in all older adults and those living in the community setting.
Mark was a geriatrician who was passionate about the health of older adults and improving medication safety for older adults. He realized we had powerful media messages about what drugs to take but too little about drug-related problems and drugs that should be avoided in older adults. A study by Gurwitz and colleagues found that almost 30 percent of adverse drug events in primary care are preventable.
I am a certified gerontological clinical nurse specialist and see drug-related problems every week on hospital rounds. I also conduct funded research on delirium and find that many medications that older adults take can cause reversible confusion and falls. I became involved with the Beers Criteria in 2001 when I was doing clinical research on medication use and acute confusion in older adults. I e-mailed Mark to say I liked the criteria but they needed to be updated. He replied, "I agree, and if you find funding and update them, I will help you and share everything I know about the methods for the update." With Mark's help, I was the lead investigator for the 2003 update. Mark was a generous and selfless mentor and refused to let me compensate him for the work. Mark passed away in 2009 at the young age of 54.
The latest 2012 update is by the American Geriatrics Society (AGS). I became involved in this update when they asked me (with Todd Semla, MS, PharmD) to be a cochair for the current update. The AGS is dedicated to improving the care of older adults, and they have done a tremendous job of bringing other collaborators on board for the update. AGS has improved the rigor of the methodology to include a grading of the evidence for each drug on the criteria, developed a schedule to update the criteria regularly, and created strong dissemination tools for the AGS 2012 Beers Criteria -- like the free iPhone App and pocket cards that can be accessed on the AGS website or ordered via regular mail post.
Lastly, I will share a few tips for caregivers I found useful when I worked with older adults in the community:
Keep a list of all the prescription and over-the-counter medications you are currently taking in your wallet or purse and taped in a visible place in your home for emergency personnel.

When you see your healthcare provider, make sure you understand the purpose of each of your medications and ask, "Do I still need all of these medications and are there any nondrug alternatives (like exercise, diet, better sleep hygiene) that could be substituted or used in conjunction with the medications I am currently taking?"

If you have a change in your daily functioning or thinking, see your provider and ask him or her to review your medications.

Never stop taking a medication just because it is on a list. Always consult with your doctor or healthcare provider first, as some medications need to be tapered or stopped slowly.
See the Beers Criteria Now
Here's where you can find the Beers Criteria. Please review it now and bookmark it for future reference, take it with you to the doctor, and check it whenever your loved one gets a new prescription. http://www.americangeriatrics.org/files/documents/beers/BeersCriteriaPublicTranslation.pdf