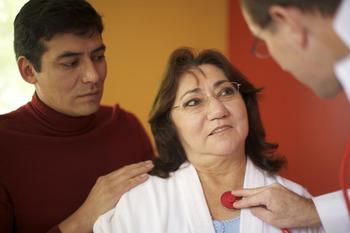 All Rights Reserved
A diagnosis of heart failure (sometimes referred to as congestive heart failure) is scary for everyone involved -- both the patient and his or her caregivers. You're certain to have lots of questions about the condition and what needs to be done to manage it. That's OK; the main thing is to feel comfortable asking as many questions as you need to -- and to get answers you understand. Bring a pen and paper to all medical appointments, and take notes on important points. If you get an answer you don't understand, it's important to ask the doctor or nurse to slow down and tell you in simpler terms.
1. Is there something we could have done to prevent this?
Why it's important: You'll be worried about this diagnosis, and hearing the answer can be reassuring and help you understand how the condition occurred.
2. What are your expectations?
Why it's important: Heart failure is a progressive disease, yet many effective treatments are available that can control symptoms and even reverse damage. So knowing what to expect in terms of both disease progression and recovery will help you monitor treatment and determine which way things are going.
3. Is this condition going to be fatal and, if so, how much time does my loved one have?
Why it's important: Some caregivers find it painful to look too far into the future, but many prefer to get the straight scoop, so they can plan ahead.
4. What are the danger signs we need to watch for?
Why it's important: As a caregiver, you're likely to notice dangerous developments such as fluid buildup, arrhythmias, and breathing difficulties. Knowing exactly what red flags to watch for will make it much easier to know when to call the doctor or head for the ER.
5. What's the goal of treatment; what are we shooting for?
Why it's important: Knowing what the doctor is looking for in terms of improvement, and what signs to monitor, is essential in order to know if the person you're caring for is, in fact, getting better or not. As a caregiver, you need to feel empowered to say that treatment isn't working if you see your loved one not getting better, or even getting worse.
6. What can I do to make the person I'm caring for feel better?
Why it's important: The doctor may be in charge of treatment, but you're in charge of keeping your loved one comfortable and helping him or her feel as good as possible each day. The doctor -- and particularly the heart failure nurses -- should be able to suggest strategies to help your loved one sleep, eat, and feel better, so he or she can have the best possible quality of life.
7. What are the best ways we can measure my loved one's condition?
Why it's important: Heart failure is a condition that requires consistent monitoring. You'll probably be asked to weigh and measure the person you're caring for frequently, check blood pressure, and possibly take other measures as well. Make sure you know your loved one's baseline numbers so you can keep track of changes.
8. What might these measures look like in six months if treatment is effective?
Why it's important: For many caregivers, having concrete goals to shoot for makes it easier to do the day-to-day work of following the doctor's treatment and lifestyle instructions. For example, if keeping to a low-sodium diet does indeed bring your loved one's blood pressure down, that's positive reinforcement for sticking to the plan.
More questions to ask after a heart failure diagnosis
9. Will you let us know if it's time to call hospice?
Why it's important: Hospice is a valuable resource that's often underused by families and caregivers. At the point that the doctor feels your loved one might have six months left, you'll likely be referred to hospice. At that point a considerable amount of home nursing services and support will become available to you. If your loved one rallies during those six months, you can extend or even discontinue hospice. But calling too soon is preferable to calling too late.
10. What follow-up tests should we be scheduling?
Why it's important: Additional tests may be necessary to monitor your loved one's progress, and some heart failure medications require regular tests to make sure they're not causing side effects.
11. Will we receive calls to tell us when it's time for follow-up appointments or tests, or do we need to remember to call?
Why it's important: It's easy to leave the doctor's office unclear on what the next steps are. And in many situations caregivers aren't told that an appointment or test won't happen unless they make the call. To be safe, ask.
12. What medications is my loved one taking, what are they supposed to do, and how will we know if they're working?
Why it's important: Treatment for heart failure can be highly successful, but studies show this condition is often undertreated. Knowing exactly what medications your loved one has been prescribed will help you make sure he or she is getting good treatment. It's important for heart failure patients and their caregivers to take responsibility for the medication regimen and not blindly follow orders without understanding what's being done and what changes are expected. Also, heart failure treatment usually involves multiple medications prescribed in combinations; it's important to know what each one does rather than just the overall treatment goal.
13. If I only see the person I'm caring for once a day or every few days, what are the most important things to do and watch for?
Why it's important: Often the medical team doesn't take into account the availability of caregiver support when making treatment decisions and lifestyle recommendations. If your caregiving time is limited, it's important to let the doctor know the person you're caring for is often alone. If you ask the doctor what the priorities are, you'll better be able to plan your time and determine if you'll need additional caregiving support.
14. What do I do if my loved one starts gasping for air in the middle of the night?
Why it's important: A sudden increase in breathing difficulty can be dangerous for someone with heart failure, and knowing what to do can be lifesaving.
15. My loved one has a monitoring device; will I be shown how to use it?
Why it's important: Many heart failure patients have implanted devices or home monitoring devices, and it's important for caregivers to know how they work and what needs to be done to maintain, operate, or monitor them.
16. How will I know when to call 911 or go to the emergency room?
Why it's important: Some of the danger signs for heart failure are obvious; others not so much. As a caregiver you'll be faced with decisions about when to try strategies at home to bring your loved one's symptoms under control, and when the situation requires a doctor. Asking the doctor to go over the specific criteria for an emergency room visit will help you feel much more in control of the situation.