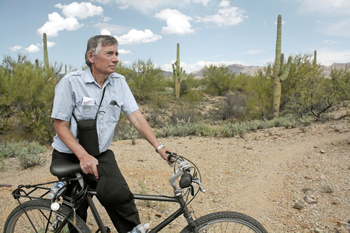 All Rights Reserved
Thanks to the less-than-humming state of today's economy, many of us are considering retiring or downsizing sooner than we'd expected -- but with less money available to live comfortably. So where to go to cut your cost of living, yet enjoy happy, active later years? The good news: There are plenty of choices, says John Howells, author of Where to Retire: America's Best and Most Affordable Places (Globe Pequot, seventh edition, 2011). The bad news: Sorting through the data isn't as simple as it sounds. "Many people make mistakes, like choosing an area where real estate is cheap, but it costs so much to heat the house every winter that you're no better off financially and meanwhile you're living in a miserable climate," says Howells.
Next: The New Retirement Community: Senior Living Isn't What You Think
To make it easier, we've selected ten options based on a number of factors, including overall cost of living, housing costs, taxes, climate, availability of healthcare, economic vitality, and geographic and cultural diversity. Since the dramatic drop in real estate values since 2007 has created some "bargain-basement" values in areas previously less affordable, we've factored in price drops as well. Here are ten retirement hot spots with major appeal to the price-conscious.
SEE ALSO: Find In-Home Care Help Near You
1. Tucson, Arizona
"An excellent place for those who like city living," says Howells, citing Tucson's manageable size (population 520,116 as of 2010 census), lack of traffic problems, and good shopping and dining. Everywhere you look in Tucson there are yoga studios, fitness centers, and other offerings typical of a health-conscious population. Howells also points out that the Sunbelt cities are among the most popular for relocating retirees, which means lots of new faces in town also looking to get connected. "The more outsiders retiring in a town or neighborhood, the more opportunities for making friends with fellow refugees," he says.
Why it's great: The University of Arizona boosts the community's cultural and educational life, with classes, lectures, plays, and concerts going on all year. The state's only opera company is based in Tucson, too. More than 30 percent of the population is over 60 and continues to grow, making seniors a vocal and active population group; there's also a well-appointed senior center offering a wealth of services. The area has no fewer than eight hospitals and major medical centers.
Why it's affordable: Housing, already affordable, is now at fire-sale prices; Tucson real estate declined by 88 percent over the past two years. In a high desert valley surrounded by mountains (elevation 2,375 feet), Tucson's climate is decent year-round, so heating bills are low in the winter, though you'll run air-conditioning in the summer.
2. Dover, Delaware
The cultural offerings of a state capital in a small city of just 32,000 people? That's the appeal of Dover, which also boasts a prime location halfway between Washington, D.C., and New York City and just a few hours from most anywhere on the Eastern seaboard. With a lively, walkable downtown, Dover is small enough to get to know your neighbors and feel at home quickly (a boon for relocators), yet big-city culture is a short drive away. "It's a good choice for those who want to stay close to their New York and Boston hometowns," says Howells.
SEE ALSO: Find In-Home Care Help Near You
Why it's great: There's plenty of activity and culture to lure folks into town, courtesy of Dover Downs, the Schwartz Center, the Biggs Museum of American Art, and other venues.
Why it's affordable: Real estate bargains are a major factor luring retirees to Dover; prices have fallen 66 percent since 2009 to an average price of $168,805 in 2010, making it a tempting option for New Yorkers and Bostonians looking for an affordable alternative. The lowest property taxes of any U.S. city also contribute to low housing costs. But while many states make taxes up in other ways, Delaware also has no sales tax and no tax on Social Security benefits. Meanwhile, a resilient economy means jobs and consulting work are available for those who want them.
3. Bend, Oregon
Shielded by the Cascade range, this small, high-desert city has a mild, four-season climate without the gloomy skies of the coastal northwest. A mecca for Californians looking for more affordable living, Bend has attracted scads of culture-conscious retirees and high-tech workers who support a lively economy with plenty of bookstores, shops, and restaurants in the restored riverfront downtown.
Why it's great: Continuing education options abound, thanks to Central Oregon Community College, which has more returning students than degree-seekers. Year-round hiking, mountain biking, trout fishing, golf, and boating -- as well as access to winter skiing and 26 golf courses -- appeal to active boomers and outdoor lovers.
Why it's affordable: After a ten-year building boom, the real estate collapse has dragged the price-to-income ratio in Bend from 3.4 in 2006 to 1.7 in 2009. "Real estate in Bend is finally reasonable again, after an extreme drop in the market," says Howells. Retirees on a fixed income also love that Oregon has no sales tax.
4. Sarasota, Florida
Developed in the 1920s along peaceful Sarasota Bay in the Gulf of Mexico, Sarasota is beloved for its atmospheric Art Deco-flavored downtown. Thanks to the fact that the Ringling Brothers wintered their circus here, there's a long-standing philanthropic legacy that's made Sarasota a cultural destination anchored by the John and Mable Ringling Museum of Art. Combined with a number of more recent developments up and down the coast, you have a vibrant but affordable area that's been somewhat shielded from the downturn that's hit much of Florida so hard. The Deepwater Horizon oil spill brought bad publicity to Florida's west coast, but no actual pollution; the beaches are still clean and pristine.
Why it's great: Culture, art, and more culture. In addition to the Ringling Center, there's the Sarasota Music Festival, the Sarasota Opera, and a top-notch symphony and ballet. A little-known fact about Florida's west coast is that humidity is lower here than on the Atlantic coast, so although summer temperatures are a few degrees hotter on paper (averaging in the high 80s and low 90s), the effect isn't nearly as withering.
Why it's affordable: The median home price in Sarasota and surrounding towns, once one of the less affordable areas of Florida, has dropped by about 50 percent, to between $137,000 and $165,000. Rentals are also reasonable; one- to three-bedroom apartments can be had for $650 a month and up. There are also a number of affordable housing developments along the coast with gorgeous coastal access that are still within a short drive of downtown Sarasota.
5. Boise, Idaho
Boise's economy has boomed in the last decade, fueled by the relocation of tech companies and a wealth of innovative start-ups, and the vitality has trickled down to make it a great option for those in search of a small city with big-city action. "Factor in the nearby smaller towns, and you'll find Boise is a top choice of new retirees," says Howells, who's just added Boise to the most recent edition of his book. The Boise River, lined with a 25-acre greenbelt full of walking and biking paths, runs right through town. Boise does get snow, so it's not for those looking for a mild year-round climate. But the area's average snowfall of 21 inches a year is low compared with other Northern cities, and spring, summer, and fall are gorgeous.
Why it's great: Boise State University, with 15,000 students, adds plenty of cultural cachet to balance the region's better-known outdoor offerings, which include world-class fishing, hiking, skiing, kayaking, and golf (ten courses).
Why it's affordable: Once insanely low, housing prices in Boise have risen slightly, but the median price still hovers around $100,000. Property taxes are at the lower end of the range, sales tax is just 5 percent, and social security payments are tax-exempt, making it a great choice for tax-conscious retirees. Medical care at two top-quality hospitals is also affordable compared with many other cities.
More affordable cities for retirement
6. San Luis Obispo, California
A college town (Cal Poly is just across the highway) that's just half an hour from the Pacific Ocean in one direction and spectacular wine country in the other, San Luis Obispo is beloved by retirees. And thanks to California's real estate crisis, it's suddenly become much more affordable.
Why it's great: San Luis Obispo's mission-centered downtown justly earned Sunset magazine's designation of "the best downtown in the Western United States." Weekly events such as farmers' markets, a free concert series, and the hundreds of lectures and concerts offered by Cal Poly mean there's something to do every day and new friends are easy to meet. The wine country of Paso Robles is a short drive away, as are the beaches and recreational opportunities of Pismo Beach and the rest of the coast.
Why it's affordable: Once considered the third-least affordable metro area in the country, San Luis Obispo and the surrounding region are suddenly a bargain thanks to California's real estate crisis. Prices dropped 10 percent overall in the past year, and much bigger bargains are to be had in short sales and foreclosures, which made up 30 percent of the past year's real estate transactions. Bargain hunters should also scan the ring of towns surrounding San Luis Obispo, including Atascadero, Nipomo, Arroyo Grande, Paso Robles, and Templeton. The mild climate keeps heating costs low, and the overall cost of living is below that of both the San Francisco Bay Area to the north and Los Angeles to the south.
7. San Antonio, Texas
Bottom-of-the-barrel real estate prices have attracted many to relocate here (population 1,300,000) over the past decade, drawn also by a strong tourism-fueled economy. But there are many good reasons for San Antonio's popularity: a walkable riverfront downtown, a lively culture, and eclectic and interesting neighborhoods, many of them with a small-town feel. San Antonio can also lay claim to a decent climate, with less rain and humidity than much of southern Texas. There's lots and lots to do. And if the city itself feels too large, it's surrounded by retiree-friendly smaller towns and developments known for Texas-style friendliness and warmth.
Why it's great: Military retirees feel especially comfortable in San Antonio because of the presence of Fort Sam Houston and Lackland and Randolph Air Force Bases. Veterans have excellent services here, and medical care in general ranks among the top in the country thanks to the University of Texas Health Science Center, one of only six sites in the nation approved for experimental cancer trials.
Why it's affordable: With no income tax and overall prices more than 20 percent lower than the national average, the overall cost of living in San Antonio is among the lowest in the country. The median home price in 2011 is a reasonable $152,000, and prices are even lower in surrounding communities. The strong economy also creates many part-time jobs in tourism, tech, healthcare, and consulting.
8. Nashville, Tennessee
There's a reason lots of celebs (besides country stars) build homes near Nashville; the rolling green hills are absurdly picturesque, land is cheap, and the town itself is a lot of fun.
Why it's great: Whether or not you're a country music fan, Nashville will keep you busy, with a revitalized downtown, a lively arts scene featuring hundreds of galleries, and restaurants of all stripes and flavors. And yes, there are 180 live music venues, including the Grand Ole Opry.
Why it's affordable: Nashville ranks high on many affordable retirement lists because of its low taxes, including no state income tax and an option to freeze property taxes for those on a fixed income. While overall housing prices in Nashville aren't notably low (reflecting the high number of large estates), retirees have excellent options. Condos in the revitalized downtown, averaging $200,000 to $250,000, have become extremely popular with the over-55 set. Just half an hour from Nashville, the retiree-friendly towns of Franklin and Murfreesboro are exceedingly easy on the budget, with subsidized senior day services, free transportation, and many other services that lower the cost of living.
9. Charlotte, North Carolina
Although it's the largest city in North Carolina, Charlotte isn't as big as you might expect, with a population of 700,000 in the urban center. Charlotte ranks high on many "best places to retire" list, thanks to endless cultural and recreational offerings. The presence of three universities boosts the culture meter sky-high, and Charlotte is a big draw for golf and racing fans, since it's home to both NASCAR and the PGA Championship at Quail Hollow, as well as the just-opened NASCAR Hall of Fame.
Why it's great: Charlotte and North Carolina in general are unusually welcoming to outsiders, says Howells, with a friendly atmosphere where Northerners and Midwesterners feel comfortable. The Mint Museum of Art is highly rated, and the region features more than 40 public golf courses and the U.S. National Whitewater Center, an unusual 307-acre Olympic quality facility for adventure sports.
Why it's affordable: The real estate site Trulia.com rates Charlotte third among its bargain destinations, thanks to a 37-percent price drop, which has brought prices of 2,000 to 3,000 square-foot homes in desirable neighborhoods like Seven Eagles below $200,000. North Carolina also boasts low taxes, a low overall cost of living -- and a booming economy that makes part-time employment easy to come by for retirees who want extra income. And the Charlotte area is unusually high in affordable retirement communities and assisted-living options as well.
10. Fayetteville, Arkansas
Tucked into the gorgeous Ozark Mountains on the shores of Beaver Lake, in the northwest corner of Arkansas, Fayetteville has nature and nurture both. The University of Arkansas, located here, boosts the cultural quotient considerably, with year-round theater, music, lectures, and sports facilities. Dickson Street, the heart of the college district, has a vibrant and eclectic collection of shops, bars, and restaurants more akin to what you'd expect in Boulder or Boston than Arkansas.
Why it's great: Beaver Lake offers plenty of recreation opportunities, and the presence of the state's major university means more bookstores, more culture, and a rich offering of restaurants. Walton Art Center, named for the Wal-Mart founding family, brings brand-name theater and touring Broadway shows. "Because Fayetteville strives to attract 'outsiders,' both to teach at the college and to retire, there's a more welcoming atmosphere than is often found in small Southern cities," says Howells.
Why it's affordable: With a mean home price of $162,000, there are plenty of affordable options, and in nearby Bentonville and Springdale housing prices are lower still. Bella Vista, a retirement community built in the 1960s north of Fayetteville, is now its own community of 30,000 people. And many of the University-based cultural and educational offerings are low-cost or free.