Hospitalization and Dementia Solution Center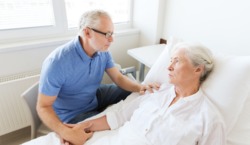 Hospitalization presents special challenges to both those with dementia and their caregivers. Take special care to support a loved one with dementia, to facilitate communication with hospital staff, to monitor for common hospital mishaps, and to ensure a safe discharge.
WHAT KIND OF HELP DO YOU NEED?
Tip: Superhero Caregivers: 3 Ways to Give Yourself a Break
Dementia caregivers often don't know how to let anyone else give them support. How to help yourself accept help.
read more