Hospitalization or Emergency Care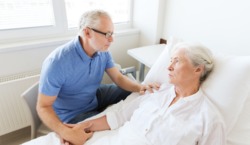 Hospitalization presents special challenges to both those with dementia and their caregivers. Take special care to support a loved one with dementia, to facilitate communication with hospital staff, to monitor for common hospital mishaps, and to ensure a safe discharge.
WHAT KIND OF HELP DO YOU NEED?
Getting Admitted to the Hospital
Can I Force the Hospital to Treat My Mom?
How Do I Handle My Mother's Erratic Behavior In the Hospital After Surgery?
Caring for a Loved One In the Hospital
FAQ: Will the Hospital Communicate With My Loved One's Doctor About His or Her Hospitalization?
Hospitalization Speeds Cognitive Decline
How to Stay Out of the Hospital
How Should I Prepare for My Mother's Return Home From the Hospital?
Avoid the Posthospitalization Communication Breakdown
Tip: A Little-Known Veterans Benefit Can Pay for Nursing Home Care
A little-known veterans benefit covers nursing home care and other medical expenses. Learn what veterans benefit covers nursing home care, how to qualify and apply.
read more