Age-Related Macular Degeneration (AMD)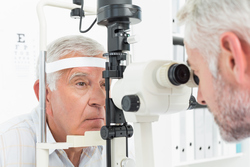 All Rights Reserved
Understanding AMD
Macular Degeneration: All Eyes Are on Hormone Therapy
Signs and Symptoms of AMD
Would Xanax or macular degeneration cause my mother to see things that aren't there?
Living with AMD
My 90 year old grandma has vision problems in her right eye. Should she still be driving?
Should my parent, who has macular degeneration, take antioxidants to help stem vision loss?
Caring for Someone with AMD
How can I help my dad, who is losing his vision from macular degeneration?
How can I encourage my parent to want to learn about his eye disease?
How can I help my parent accept her eye disease?
Tip: Tip: Watch for the Sideways Glance
Glaucoma, an eye disease of the optic nerve, is common over age 60 -- but fortunately most cases develop slowly. See this important clue that can be a tip-off to getting vision checked.
read more