Venous Thromboembolism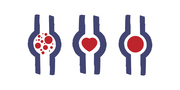 Venous thromboembolism (VTE) is a disease that includes both deep vein thrombosis (DVT) and pulmonary embolism (PE). A venous thrombus is a blood clot (thrombus) that forms within a vein. Thrombosis is a term for a blood clot occurring inside a blood vessel. When a blood clot breaks loose and travels in the blood, this is called a venous thromboembolism (VTE).
Caregiving With VTE 
What is the prognosis for blood clots in lungs?
More Information About Blood Clots 
Where do blood clots in the lung come from?
Ask Our Experts About Venous Thromboembolism