Mild to Moderate Alzheimer's
Activities Ideas Center
Start a Fish Tank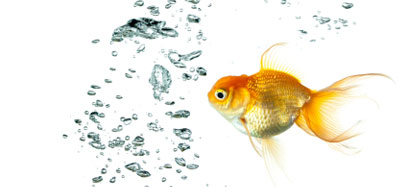 What you need:
Aquarium with filter or fishbowl (depending on type of fish), pebbles for tank bottom, plastic plants or other bowl décor, fish
What to know:
Watching fish is a huge stress reliever. (Ever notice how many doctors' waiting rooms have them?)
Whether you choose simple goldfish or fish that need a filter depends on your budget and your ability to maintain the tank. Ask clerks at a pet store for recommendations. Bear in mind that you, not your loved one, will be mainly responsible.
Bring your loved one along to select the items for the tank and the fish. This makes a wonderful outing you may wish to repeat even after you have your own tank.
Store fish food where your loved one can't get it, to prevent accidental multiple feedings.
Alternative: Set up a fake fish tank. It's as relaxing to watch as the real thing, without the hassle of keeping anything alive. Search online under fish tank and faux or artificial or fake.
Alternative: Encourage your loved one to watch videos or DVDs of fish and underwater life.