Mild to Moderate Alzheimer's
Activities Ideas Center
Setting the Table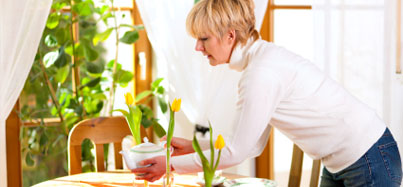 What you need:
Plates, silverware, napkins
What to know:
Table-setting is a wonderful opportunity to contribute meaningfully to the household.
The larger the group (parties or family gatherings), the easier this task, since more place settings require more repetition.
The key is to break the task into parts and initiate only one at a time. First give your loved one all the plates to set out. Once that's complete, give your loved one the forks. Once that's complete, give the knives, and so on. Breaking the steps into separate parts makes it manageable.
Unless you're sure it won't create confusion or panic, don't make a blanket request without any other cues: "Please set the table." Better: "Here are the plates. Can you set them on the table?"
Don't be fussy about perfection. Better to live with (or surreptitiously correct) mistakes without pointing them out.